What is Halong Bay and why is it famous?
Halong Bay is considered by UNESCO as one of the Natural Wonder of the World and is one of most visited place in Vietnam. It is well known to people who loves nature. It is famous for its beaches and caves as well as the large collection of species in the area.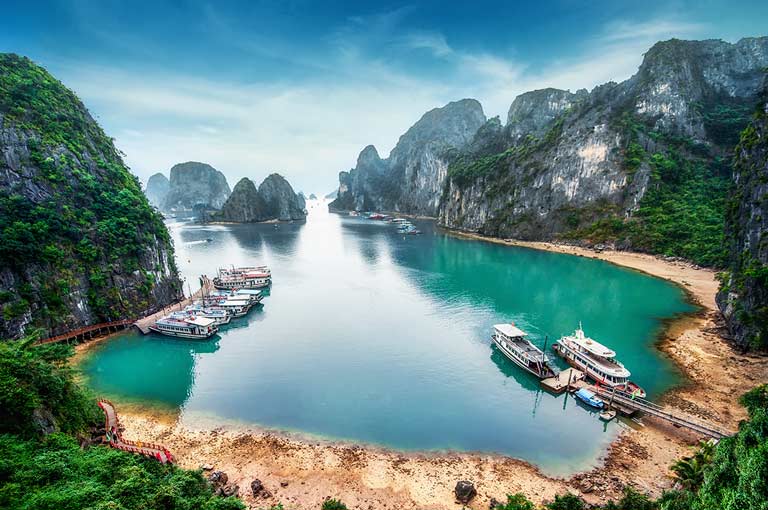 Here are the best place to go in Halong bay
First stop is the Sleeping on Board. This is for people who wants a relaxing time onboard a boat. Eventhough there are many new hotels at the islands, this is one of the best way to get authentic Halong bay experience. You can enjoy and admire the beaches in a more serene manner. There are also many kinds of boats available and you can choose between a diesel powered to high standard cruisers depending on your budget.
Book a tour to Halong Bay is a good choice for you!
Second activity you should try is to do sunbathing in Halong bay. Swimming and sunbathing is one of the most rewarding thing to do in this area. This place is filled with limestones and grottoes for nature tripping. Other activities you can enjoy as a tourist in this area is to do snorkelling, kayaking and fishing.
Third activity you must try is to do Tai Chi on Deck. Tai Chi, originated thousands of years ago in China which is a form of martial arts. Through Tai chi one can improve well his movements, control, improve mental health and concentration, and strengthen the boy. This form of art will greatly benefit anyone and when done along the sublime nature found in Halong Bay, you will feel more energized and at peace.
Fourth activity I recommend is to visit the Floating villages. Yes, you heard it right, Floating villages. This village is a the Halong bay where lots of families live and consider this place their 2nd hometown. This actually is a home for most fishermen for many generations.
Cat Ba is the fifth place to visit. This is one of the biggest island in Halong bay that shows breathtaking natural scenery and large collection of natural habitats and species. You can reach this place through a boat and explore it on foot if you don't want to ride a bicycle for rent. This place has lots of mangrove forest that has varied wildlife, lakes and grottoes, and hidden waterfalls.
6th is by overviewing by Helicopter. From the air you will see how beautiful the place can be but this is also one of the most expensive thing to do in Halong Bay. But if you have cash to burn, I will definitely recommend this to you. The helicopter ride will give you the whole stretch of beauty of the island of about 300 meters high. YOu will see almost all the famous landscape the place has to offer.
Seventh on our list is to discover the caves and grottos. There are many caves you can explore in Halong Bay like the Thien Cung cave also known as the Heavenly Palace cave. This cave is very popular for having lots of stalactites and Stalagmites; the Dau Go Cave also known as the Cave of Wonders which is also popular and is well illuminated.
Next stop is to Dine inside the cave. Yes, I am not crazy, there are many caves here that is used to attract tourist as a dining place. There are a few cruises that gives this option on their trips where you can dine inside the cave and the food and activities are prepared by the crew. It is one of the most memorable way to celebrate like wedding anniversary, birthdays, conference and you can even do the wedding here but you need to take no more than sixty guests.
Next activity to try is to do Kayaking between the limestone outcrops. Kayaking in this place is fun and peaceful. The tides are mild and the water is crystal clear blue. One of the best ways to enjoy your vacation.
Last on our list to do is ofcourse to Swim. Halong bay is one of the cleanest beaches in the world and is blessed with calm seas and clear water. The clear green water of the bay is relaxing and cool which will help you relax. Some of the beaches to explore are the Quan Lan beach, Ngoc Vung beach, Tuan Chau beach, Bai Chay beach and the Ti Top beach. All those beach are worth your while cause of its beautiful scenery and clean beach.
I hope this blog Top things to do in Halong bay will help you decide what activities to do in when you visit here.