Fishing is one of the outdoor activities that many young and old folks are enjoying. It is also one of the sources of income of those who are living near the rivers, ponds, lakes or ocean water. The quantity of fish that you catch every day or on your weekend activities always depend on your techniques, skills and of course, the tools or equipment you use.
When you go out fishing, you surely are prepared. You have all your gadgets, tools, equipment, reels, lures, life jacket on and a boat. But, how sure are you that you have what you need for a successful fishing day?
One of the things that you must possess when thinking about having a successful fishing is a good fishing rod with a quality spinning reel. Speaking of spinning reels, this is a very important part in your fishing.
Factors to consider when buying a spinning reel
If you have the best spinning reel, then your chances of success in fishing are high. Spinning reels are ideal for fishing in any conditions, such as weather, type of water, species of fish and your kind of fishing. Now, there are a few factors that you must consider when you are buying a spinning reel.
Construction
It is very important to have a strong spinning reel, so that it can handle shocks and heavy loads striking on your bait. Imagine catching a big fish weighing 100 – 500 pounds, make sure your reel won't break. Your spinning reel must have a good housing and a metal shaft in proper alignment, it must be precise, sealed and must have components with high standards.
Bail
This is a wire on top of your rotor, moving round just above the spool as you turn the handle of. It functions as a stopper for the line not to move off your spool, it also lines off the spool and it guides the line going back to your spool.
Gear Ratio
This refers to the number of bail spins it made every time the handle makes a full turn. A slow gear ratio rates at 4:1 while 5:1 for medium and then, 6:1 for a fast gear ratio.
Drag
The drag is a large washer found in the housing. It aims to release more lines under a great pressure and to avoid situations, where the fish pulls and snaps your line.
Capacity
This refers to the length of the line that your spinning reel can hold. It comes in various sizes and thickness, such as monofilament and braided lines.
Rods
The rod and the reel must match because it also determines the capacity that a spinning reel holds.
Convenience
Spinning reels are supposed to give you the maximum fishing experience. So, make sure it works well according to your fishing needs. And then, consider the ease of cleaning it.
Review of Spinning Reels
There are so many products available on the market today. It is confusing to choose one, so we have here a brief review of the spinning reels 2017 for your options. May you find the spinning reels 2017 reviews helpful.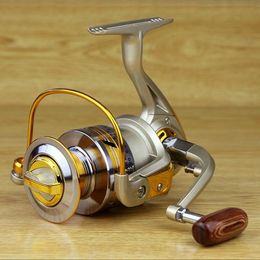 On top is the all-around Okuma Trio High Speed Spinning Reel. It comes with graphite arbor, aluminum lip, skirted spool, metal materials, composite materials, Precision Dual Force Drag System or DFD function, EOS or Elliptical Oscillation System, CRC or Corrosion Resistant Coating, 9 bearing with roller bearing, 6.2:1 gear ratio, 10/190 line capacity and weighs 10.8 ounces.
Next, we have the Daiwa DFGiant Spinning Fishing Reel, which ideal for salt and fresh water fishing. It comes with stainless steel shaft, metal gears, stainless steel ball bearing, aluminum spool, line capacity of 370, monofilament line, 3.4:1 gear ratio, multi-disc for front drag, and left-hand retrieve.
For your last option, we have the lightweight Pflueger President Spinning Reel. It comes with graphite reel, graphite body, graphite rotor, 10 ball bearings that are corrosion resistant, braided aluminum line spool, stainless steel shaft, oil-felt washer for drag system, anti-reverse bearing and multi-disc drag system,
Those are the three options for a high-quality spinning reel. Manufacturers know how much you love fishing. So, it is their responsibility to offer you the best products.
Miller from http://www.pickkayaks.com